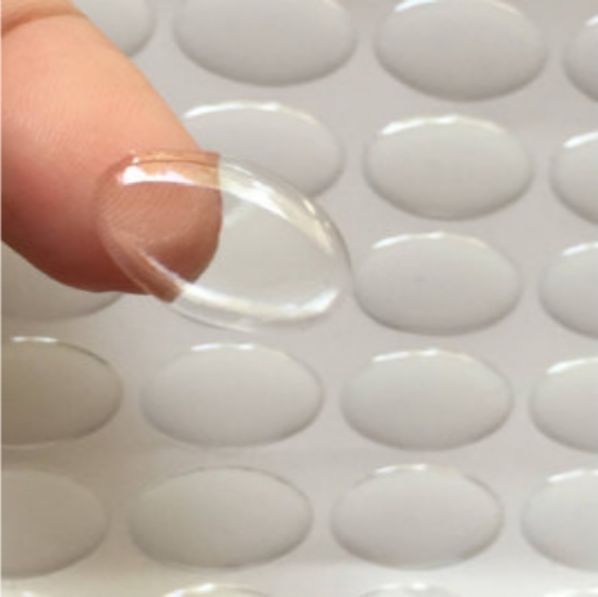 Clear domes are made from a clear gloss vinyl base topped with crystal clear
liquid polyurethane resin. Our clear domes are flexible, with a self-adhesive backing
(permanent clear solvent-based acrylic).
Clear domes are non-scratch, non-yellowing, UV-resistant and waterproof.
Manufactured in the UK.
Adding a clear resin dome to a print instantly adds a touch of quality, making the
image more attractive and eye-catching. The dome will also protect the printed image,
adding resilience and permanence.
We can supply polyurethane clear domes in almost any shape and size
*
required and
we keep all the most popular sizes in stock for immediate despatch.
*max size for custom clear domes is 70mm dia, or 60mm in length or width.
Alternatively, you can apply liquid polyurethane on to your own printed decals by
using doming cartridges and a doming gun.
Printing your own centres.
You can use your own computer and printer to produce images, using image-editing software.
Our personal choice is Coreldraw but there are lots of alternatives, including many free ones.
Any software with basics such as adding text to an image will do for producing simple prints.
Their are many ways to print and cut out your images.
Most convenient are vinyl print-cut machines marketed by specialist Companies such as Gerber, Mutoh or Roland.
Simply apply our clear domes to the cut out images produced. Alternatively, use a conventional printer and print on
adhesive backed glossy photo paper. Then apply the clear dome to the print and cut out using a handheld cutter.
We stock A4 photo paper with adhesive backing for printing, and a range of hand held cutter sizes.
An even simpler solution is to use scissors - apply the clear dome to the paper and cut around it.
Due to print registration and 'lining up' problems, we do not sell A4 sheets of pre-cut adhesive labels or recommend
any 'print and dome' system based on their use.
Application.
To avoid air being trapped between the two surfaces, the clear dome should be 'rolled on' from one edge of the print
to the other. Apply downward pressure at the same time so the adhesion layer makes contact evenly with the print layer.
Uses.
Clear domes are a useful alternative for one-offs and immediate fulfillment of orders for pin badges, trophies, keyrings,
and any other product requiring personalisation or a quality long-term identification label.
Clear domes make short runs and one-offs practical and cost effective. However, for larger print run quantities (over 25)
we recommend using KEYFACTORS to supply printed and domed badges/labels.